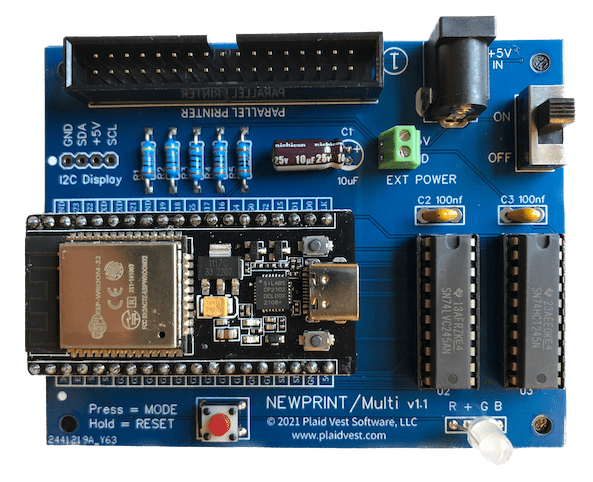 NEWPRINT/Multi
Virtual Wi-Fi printer with web-browser output
Buy NEWPRINT for $60 + $6.50 s/h (USA)
Please use the contact page for price quotes on additional items or international shipping.
Additional ribbon cables may be purchased for $10 each
What's New
2023-04-29
2023-04-17 v1.4.2
Option to fix blank lines for IIGS graphics when using older Grappler+ cards (G+Fix)
New display color options (white on black, green on black)
Renamed formats to be more generic: "AppleWorks" to "Document" and "PrintShop" to "Graphics"
Compatibility
TRS80 Model 1/3/4/4p
Apple II+/IIe/IIgs with Grappler+ or compatible parallel printer card
Other vintage computers*

*Note: Other vintage computers may work with NEWPRINT if they support a standard parallel printer but a custom cable may be required. I have had reports of Atari and C64 machines working when used with a Supergraphix Centronics printer adapter. This support is not guaranteed as I do not have these machines to test with.
Requirements
Wi-Fi requires a 2.4Ghz network. 5Ghz is not supported.
Apple II series require a Grappler+ (or compatible) parallel printer card
Note: A standard USB-to-Barrel jack power cable is included
Limitations
TRS-80 is text only
Apple II series emulates a 4-Color Imagewriter printer with PDF output option
Apple II series supports text and Print Shop graphics
Apple IIgs supports Print Shop/GS and GS/OS graphics output (requires Harmonie printer drivers)
Reviews
A nice review/overview by Brad Grier (here)
Screenshots
Details
NEWPRINT/Multi is a Wi-Fi-enabled "virtual" printer adapter that connects to your computer's printer port and your local Wi-Fi network to send printer output to any device that supports a modern browser (iPad, Desktop PC, Mac, etc.).
The NEWPRINT web interface can show printer output as plain text, hexadecimal values, Print Shop graphics (Apple II), or Apple IIgs GS/OS graphics printing.
Text mode output does not (currently) understand special printer control codes used by most word processors (BOLD, multiple font sizes, Form Feed, etc.).
The NEWPRINT web interface is available from any browser on your local Wi-Fi network at newprint.local
NEWPRINT uses the standard HTML WebSocket API so you can even write your own web-based or desktop interface for displaying and processing NEWPRINT output.
Note: A USB power adapter (+5v DC) and printed User's Manual are not included to keep prices low. However, a USB-to-Barrel Jack cable is included. See the PDF User's Manual below for more information.
Ribbon Cable Option
NEWPRINT/Multi comes with your choice of an Apple II, TRS-80, or Centronics ribbon cable.
TRS-80 Cable (34 pin edge connector)
Apple II Cable (26 pin IDC connector)
Centronics Cable (female)
Apple II Printer Card Notes
Some Grappler printer cards are missing pin #2. This is intentional and was designed to prevent you from connecting your ribbon cable backwards. This is fine as NEWPRINT does not require pin #2.
If you have an older NEWPRINT card please contact me for a fix.
Apple IIgs Notes
Some IIgs models may require a "newer" Grappler+ card (with 74LS374 in U10). The "old" Grappler+ card (with 74LS373 in U10) may have timing issues on the GS.
My setup is a ROM01 IIgs with the older (373) Grappler+ card and I have no issues
See this link for Apple's Tech Note on this issue
If you are using one of the older Grappler+ cards (373 chip), set dip switch 1 to OFF
If you are using one of the newer Grappler+ cards (374 chip), set dip switch 1 to ON
Note: I have added an option to the NEWPRINT web interface to fix the Apple IIgs Grappler+ blank line problem. It is not perfect but provides very nice results if you happen to have an incompatible Grappler+ card.
Apple II Series Cable Installation
See the PDF User's Manual below for a few pictures and tips on how to install the ribbon cable through the rear slots without damaging your cable